How Data Assets can Boost Your Business Valuation
What is a data asset?
The sheer volume of data that is being produced is astounding...and sometimes frightening.
Some business owners are failing to keep up and remain in the dark when it comes to the best way to collect, store, analyse and make use of their data. However, according to PwC's new report, 'Putting and Value of Data', the simple process of identifying and categorising data can help businesses to realise its value.
There are various sources of data, which include:
Authored data
- Data created by a human during a creative process, such as architectural plans or photographic images.
Captured data
- data taken from a software or real-world event, such as browsing history information or transaction data.
User-provided data
- data input by consumers, such as their social media profiles.
Derived data
- data produced as a result of the aggregation of other data, such as a person's credit score.
Businesses can start their journey of discovery by analysing their data and categorising it to help make sense of it.
When it comes to identifying which data is actually an asset to the business, as a business owner, you need to consider the following questions:
Will it lead to future financial benefits?
Is it easy to identify and define?
Is it under your business's full control?
If you can confidently answer yes to all of these questions, then you could be sitting on some serious value in the form of your data.
What impact can data assets have on my company's valuation?
The valuation multiples achieved by businesses that are data-driven, are often higher than others. This applies to businesses in different or the same industries. In addition, businesses that have strong data assets are finding that competitors are approaching them to try to buy their data assets, or even to simply use them.
With this in mind, it's astounding that only a half of businesses in the UK are insured against data loss, according to a new report by Accenture*. Among the larger organisations the researchers at Accenture spoke to, a third had reported an attempt to steal or destroy their data assets in the past year alone - another illustration of the value data now represents to businesses.
The concept of data as an asset is becoming more accepted among large businesses, it seems. For example, Siemens were happy to talk about data in very capitalist terms on a recent promotional video. It stated: "We need to understand that data is everywhere, and it is generated every second of the day. We need to understand data as an asset – and turn it into a value."
However, in order to make the very most of your data assets as a business, you need to be able to monetise your data. There are a range of approaches to take when attempting to monetise data. For example:
Using consumer data to increase ROI from your marketing campaigns
Selling your analytics capabilities to competitors or others (white labeling)
Joining with other businesses holding data sets that can be combined with yours for economic benefit
Selling data platforms as a service
Methods for valuing data
There is no set agreed method of putting actual valuations on data, but the Income, Market and Cost methods commonly used to value an asset also apply to data: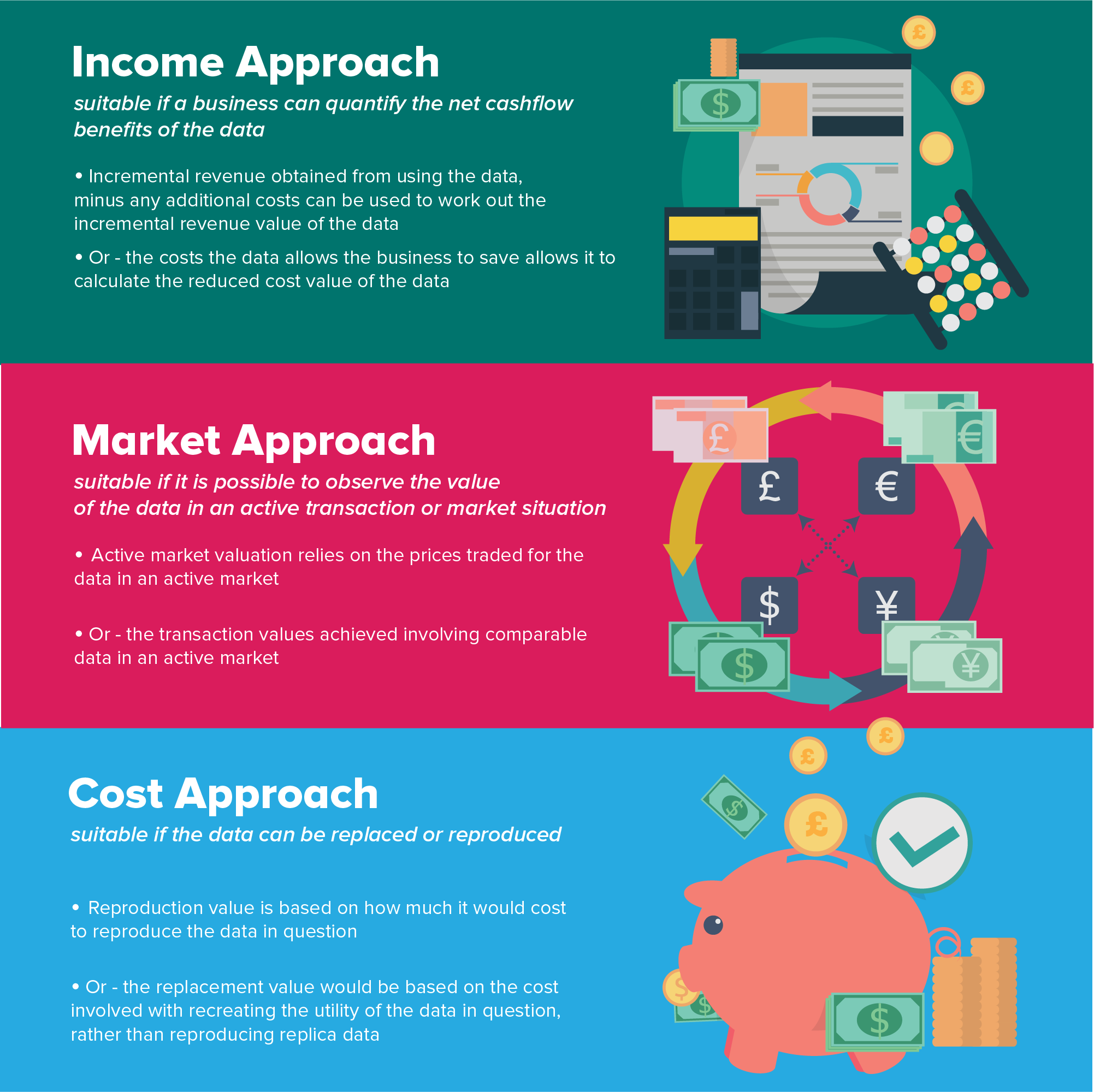 Netflix is a business that has everyone talking about the value of data. On the surface, the business is pumping out huge amounts of extremely popular content, that is highly expensive to produce, for what seems to be a measly £9.99 per month, per household. This has onlookers scratching their heads.
Netflix is, according to its own figures, achieving millions of viewers for its original programmes and films, but regardless of its popularity and success, it can't make any more than that modest subscription fee. And according to its reports, its main income IS still from subscriptions.
However, the other thing Netflix has is seriously huge amounts of consumer data, which is highly desirable to other media businesses. It will be interesting to see what it does with this data over the coming years and how much value it creates as a result.
As well as the potential for huge valuations among businesses that are sitting on data goldmines, firms that can help businesses categorise, monetise and utilise their own data are also reaping the benefits. An example is Tealium, a start-up that helps giants like Facebook and IBM to manage their consumer data, which recently saw it's valuation soar to what some sources believe to be around US $850million, following a massive investment.
Despite all the potential held in data and the value it can bring to businesses that know how to identify and monetize their data assets properly, caution is needed. Consumers are ever-more aware of the fact that businesses are monitoring, recording and logging their every move and are, rightly, concerned about abuse. They are fast becoming aware of their rights to preserve the privacy of their personal information. Some say that 'data is the new oil', which is an effective reminder that data can make you rich, but overuse and greed could lead to disaster.
Share this article