Business Sale Report Monthly Updates: Viewer Insights for May 2019
The team behind the Business Sale Report operates with you, our loyal subscribers, in mind. Every piece of information that we generate and curate on the website is a result of your views and business-related interests – we aim to provide you with the best possible information to meet the needs of entrepreneurial opportunists like yourselves. From hosting a range of distressed businesses and companies for sale that may pique your interests, to writing how-to guides and thoroughly-researched industry insights, our goal is to assist you in being completely informed to stay ahead in an incredibly competitive and saturated marketplace.

It has now been three months since we started our Monthly Updates insights series, to shift the focus to you, our subscribers. Instead of examining general worldwide trends and activities, our Viewer Insights for the last 30 days takes an in-depth look into the activity of your competitors to see: what sectors were viewed the most on the Business Sale Report website, which pages and industries appeared most popular, and the top businesses that sparked interest.

Above all, we will aim to draw comparisons to the previous two months to provide a quarterly assessment, and explain exactly why.


Winding-Up Petitions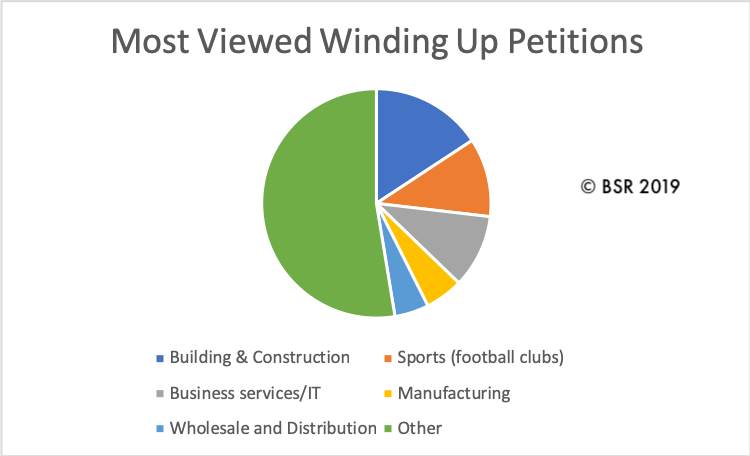 Businesses facing winding-up petitions are those that are insolvent and being forced into compulsory termination as a result of its need to pay off creditors through liquidating its assets.
There appears to be an upward trend in the interest shown in building and construction firms facing winding-up petitions, with the number of views shown in such companies growing at a steady rate over the last three months. In particular, this
building project
Surrey garnered a lot of attention, perhaps due to its proximity to London and its potential for projects and assets available, making it all the more attractive from a buyer's perspective.
What is surprising, however, is that football clubs seem to be climbing in popularity in this category as well; in April, the most viewed winding-up petition was for the
Bury Football Club
and in May, 11 per cent of all views have been for football clubs. This month,
Bolton Wanderers FC
went under. Competition in this field is rife in the wake of major tournaments like the Champions League and the Europa League, and therefore the efforts and finances required to keep smaller football clubs afloat rises as well. Interest in this sector is thus explanatory, as buyers see opportunities to invest and grow with sporting teams in what can only be described as an extremely lucrative industry.
Liquidations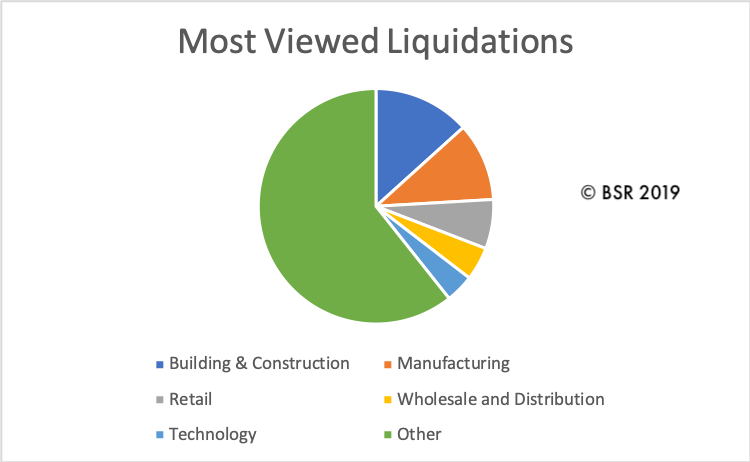 When an insolvent business can no longer meet its financial contracts, it is struck off the Companies House list by entering liquidation. The business is brought to an official end after its assets are distributed to interested clients and its creditors reimbursed.
Unlike the previous two months, where manufacturing and retail businesses have reigned in terms of securing the most views, May 2019 has seen a shift to building and construction, which has secured nearly 15 per cent of the total views. Especially as major companies like
British Steel
have gone under, sparking nationwide interest, it is no surprise that this particular sector has seen a significant increase in views from business buyers assessing the competition across the board.
Despite this industry reaping in the most interest from Business Sale Report subscribers, it is difficult to glean what this means when looking at business trends on a national level. In the event of a liquidation, companies often cite severe cashflow difficulties and tough trading conditions in the market as the reason for their downfall. Buyers and investors should, therefore, proceed with caution should they wish to go down this path, and assess risk and potential for profitability and turnaround in the future.
Administration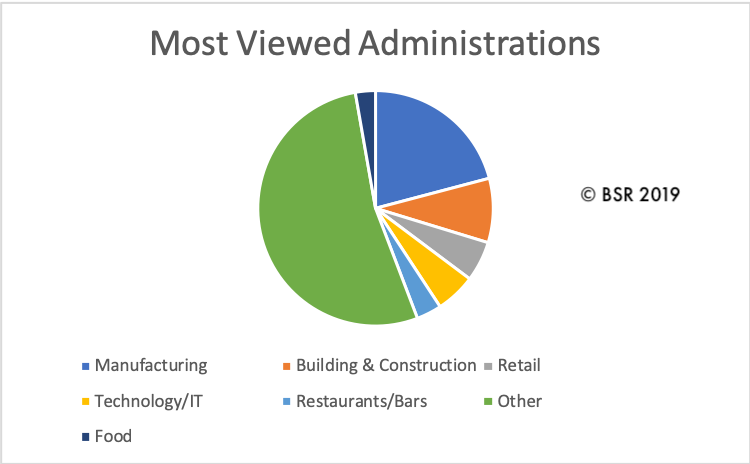 A business in administration means that control of the company has been passed on to a licensed insolvency practitioner to leverage assets or restructure the company as necessary in order to repay creditors or ensure profitability in the future.
Taking a step away from the building and construction sector, manufacturing businesses gained the most traction in the administration section of the Business Sale Report website. More specifically, companies like this
aviation manufacturing firm
and this
West Yorkshire manufacturer
appear to have sparked interest – however, it is funny that they should be closely linked to the building and construction industries, demonstrating a trend across this entire month.
We can only assume that manufacturing businesses appeared so popular amongst viewers for the assets readily available for purchase, their capacity to continue trading despite entering administration, and their ability to restructure and still secure funds for growth in the future.
It is, therefore, absolutely no surprise that the
P&M Aviation Limited company
garnered the most unique views this month.
Businesses For Sale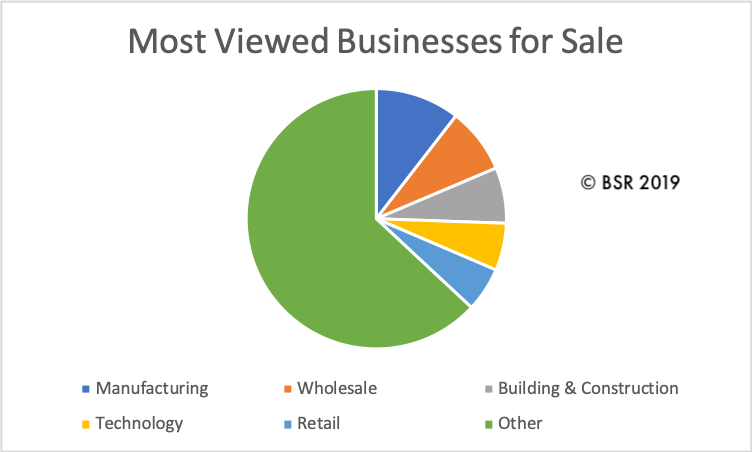 Acquisition activity is rife in today's market, despite the uncertainty posed by Brexit and the turbulent economic climate we face as a result. After all, buying a business is a great way to expand your existing portfolio and take on a larger share of the market, which is why this section has the most diversity in terms of views and industries! Our figures revealed that 63.06 per cent of all views fell into the Other category.
Naturally, this is to be expected as business buyers have interests that vary across the board and look for businesses that fit into their existing strategies and growth plans. That said, over the last three months, companies in the manufacturing category have proven most popular, we suspect due to their high turnovers and range of held assets.
Above all, it is important to note that the Businesses For Sale section reaped thousands of more views than any of the other sections (Winding-Up Petitions, Liquidations and Administration), illustrating that interest in merger and acquisition activity is far greater than companies seeking out distressed and failing companies.
The team behind the Business Sale Report believe such information should be shared with all its subscribers, to give business opportunists like yourselves the edge over your competitors, and to allow you to look introspectively at your business and your place in the market. As we continue to produce these reports, we will develop a better understanding of buyer activity in the market, which we would be thrilled to share with you on a regular basis. Further down the line, we will produce a half-year review, and examine activity over a six-month period to see how Business Sale Report subscribers align with the rest of the nation.
View our previous
Monthly Insight
.
For all our business for sale listings, click here.
Share this article