Business Sale Report Monthly Updates: Viewer Insights for March 2019
It is you, our loyal subscribers and business opportunists, that make the Business Sale Report what it is. Our curated selection of businesses for sale and distressed businesses, as well as our thoroughly researched industry insights and sector-specific how-tos, are largely inspired by your views and business-related interests, not to mention your desire to be competitive in such booming marketplaces.

Therefore, for a change, we thought we'd shift our focus to you, instead of examining general worldwide trends and activity. Our Viewer Insights for the last 30 days takes an in-depth look into the activity of your competitors to see: what sector insights were viewed the most on the Business Sale Report website, which pages and industries appeared most popular, and the top businesses that piqued interest.

Most importantly, we'll also try to explain exactly why.


Winding-Up Petitions
A court order has been filed, and an insolvent business is being forced into compulsory termination to liquidate the company's assets in order pay off its creditors: in this scenario, businesses are facing winding-up petitions.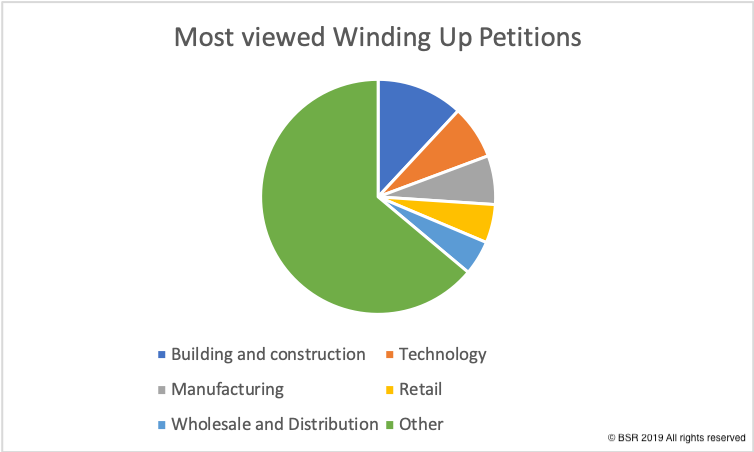 In the last month, it appears businesses in the building and construction industry received the most views under our winding-up petition category, followed closely by technology and manufacturing. Perhaps this is part of a wider trend across the UK; recently, companies like
Clovemead Limited
and
Dawnus Construction
have been collapsing as a result of a fall in trading contracts, and thus the inability to financially sustain themselves.
However, what this does mean is that there are a series of incomplete construction projects peppered around the UK – is this an opportunity for business buyers to take advantage of with their own building services company?
Despite being the most viewed sector, the most viewed individual winding-up petitions were, in fact, in
real estate
. A curveball, no doubt.
Liquidations
In the event of a liquidation, an insolvent business which cannot meet its financial obligations is brought to a close by distributing its assets to petitioners. The company's creditors are paid off, and the business is officially struck of the Companies House list.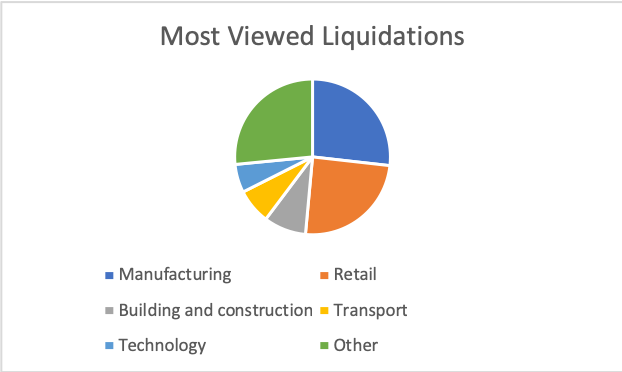 More unsurprisingly so, roughly 50 per cent of all views went either to businesses in the manufacturing (26.79 per cent) or retail (24.67 per cent) sectors. Stories of businesses collapsing on the high street have been plastered on the news recently – just look at fashion retailer
LK Bennett
and luxury furniture manufacturer
Kingstown Furniture
, who have both suffered from challenging market conditions and severe financial difficulties.
It is therefore no surprise that this
furniture manufacturer
and
tobacco retailer
were the most viewed liquidations in the past 30 days.
In spite of this information, it is difficult to glean what this means for business buyers. Manufacture and retail have historically been two popular industries for their potential for growth and sustainable demand, but in present times, it may be worth dwelling upon plans for innovation and diversification, should you wish to go down such paths.
Administrations
Not a single day has gone by in the past month that a new business has not gone into administration. In this instance, the control of a company is handed over to a licensed insolvency practitioner to assess the business's situation to leverage its assets in order to repay creditors, or finance a restructure to ensure profitability going forward.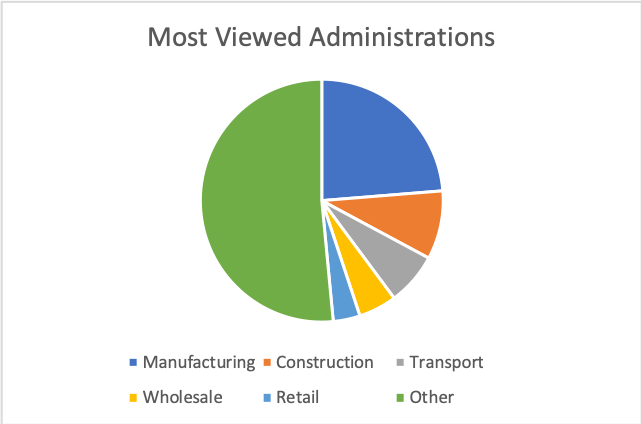 Yet again, manufacturing and construction dominated the industry views with roughly one-third of all subscribers' clicks. Perhaps similar to businesses in liquidation, construction administrations, like that of
Wessex Building Services
, prove to be popular due to the number of assets available to adopt, and their ability to continue trading operations as normal, thus resonating with the needs of buyers like yourselves.
It is therefore no surprise that this
administration listing
was one of the most viewed on the Business Sale Report website in the last month.
Businesses For Sale
Acquisitions are a great way to expand a business by growing its portfolio of services and therefore engulfing a larger share of the market. And so, this is perhaps why this section had the most diversity in terms of industry views! A whopping 82.46 per cent of all clicks fell into the Other category, meaning that interests were varied across the board.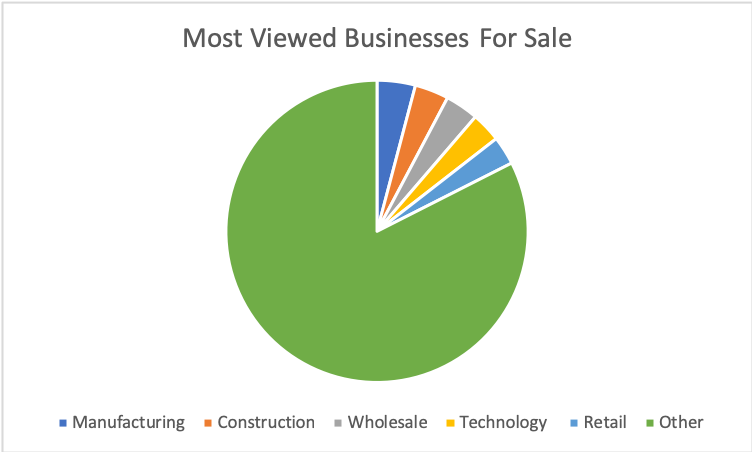 This, however, makes sense. In the Businesses For Sale section, we offer an incredible range of business categories to allow users to peruse companies that tailor to his or her current business interests, needs and strategy. Precisely for this reason, the Other segment takes precedence; this is the case even though manufacturing, construction and wholesale were top contenders for views in the acquisition market due to their attractiveness in tangible assets and generally high turnovers.
However, what can be said is that the Businesses For Sale section of the website, in comparison to Winding-up Petitions, Administrations and Liquidations, received thousands of more views. Our concluding assumption from this is that the desire to acquire and grow businesses is rife, even in an economic climate as uncertain as the one we face today.
At Business Sale Report, we are intrigued by our subscribers' activity, and are keen to share this information. Analysis such as this provides a great insight into market activity, and for you to see how you and your competitors align with each other and general business trends across the country and globe. Stay tuned for these fully-researched in-depth reports, to tailor your decisions and outsmart your competition in the business arena going forward.
View the
April Insight
.
For all our business for sale listings, click here.
Share this article