So you don't have enough money to buy the business?
Buying a business is not like buying a house

Here's what the majority of people do when they are seriously intent on buying a business: they treat the process like buying a house. They go to the estate agent, put in an offer and cross their fingers that the offer will be accepted.

This is an amateur approach and will usually involve the buyer deliberating for days, refining the offer before sending it over to the seller or broker and holding their breath.

What do you think the seasoned business owner is going to do? Send it straight back with a note saying "we've had offers like this or better than this – please improve on it." The buyer thinks on it, goes to lenders to borrow more and sends in his/her revised offer.

Buying a business doesn't have to be this way - when you have your heart set on buying a business, you need to look at the purchase more strategically:

Look to the assets of the business itself to raise the cash for the deposit (or to recoup your deposit payment). You can often borrow cash against the assets in the form of a secured business loan or asset financing. This allows you to raise cash to buy a business, or pay for a deposit, without using your own money.

Use the business' cash flow to make payments to whatever sources provided you with money for the deposit, and to pay the seller for the balance of the price that the seller financed.

Even if you do have your own cash to buy a business, it might not be the smartest move. Consider ways to leverage any money you do have access to. If you have £500,000 for example, instead of buying a business worth £500,000, consider using the £500,000 as a deposit for a much larger business. You then get to keep the profits from that much larger business. It's all about financial leverage.

Make sure you have the right team in place to help you make a success of a deal before trying to put one together. At the very least this should include a lawyer with M&A experience and an accountant with industry knowledge. These experts can help you to structure a deal and ensure you are being realistic in your endeavours.

Familiarise yourself with sources of funds and how best to approach them. Hire a consultant to help with this side of things if you need to. There are even professional business buyer advocates available. Someone with expertise may be able to help you make your offer and/or business attractive to financiers and also to promote yourself as a great bet to sellers and sources of funding. Mistakes will be far more costly than the price of the expertise.

The Deal Pie

It should be possible to work alongside the seller to agree on how you can achieve the figure they want for their company using several components. Think structure rather than price.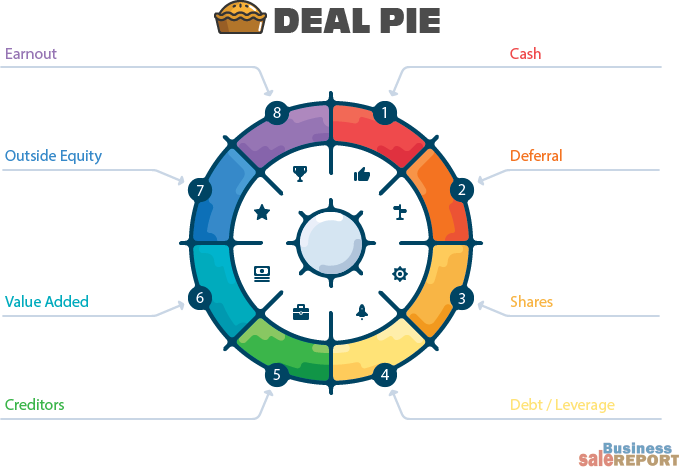 The Deal Pie is a graphic representation of some of the most commonly used funding components (and is by no means exhaustive).
Cash – you could pay for some or all of the sale price with your own cash. But ideally not. It could be cash that is already owned by the company and is more tax-advantageous to the seller to leave in the business rather than withdraw.
Deferral – often referred to as vendor finance. A set amount over a set period i.e. £200,000 over two years, financed from the company's own operating cash flow. Tell the seller that it has become commonplace for vendors to provide some of the financing as banks have cut back lending in this area.
Shares – There are two ways to approach this: 1) Leave the vendor a stake in the business. i.e. a 25 per cent share in a business valued at £1m is equivalent to paying £250k. 2) Offer shares in an umbrella holding company, as part of a wider acquisition consolidation strategy. Remember that you will continue to owe the business owner a percentage of profits for years to come, but it does mean you can avoid being in debt. In addition, the amount paid to the owner will be linked to the performance of the business.
Debt/leverage – borrowing money against the assets of the business. Can be property, vehicles or machinery etc.
Creditors/Suppliers – Major suppliers may be interested in swapping debt for equity, or taking a stake in return for a long-term contract.
Adding Value – It is often possible to obtain a stake by adding value – this could be by bringing across new customers to the business. Or by providing your own expert skills, labour or other resources.
Outside Equity – Simultaneously sell a share in the business to another investor, private equity fund or even friends or family. A private placement offering could be made to a small group of investors.
Earnout – This is not the same as a deferral. This is where the buyer agrees to pay the vendor a certain amount at a particular point in the future dependent upon the business reaching pre-agreed targets.
An example of a creative M&A deal taking place in practice is the recent purchase of US recruitment software firm Breezy HR by the highly acquisitive UK-based public firm Learning Technologies Group (LTG) PLC. LTG gas a goal of boosting its earnings before tax to at least £55m by 2021, which it wants to achieve partly through expansion and acquisition.
The deal to buy Breezy sees it paying an initial down payment of US$12m, followed by further performance related payments of up to US$18m over the coming three years in an earn-out deal. A proportion of the upfront consideration was provided via bank facilities. Now 80 percent of Breezy's $3.6m revenues, i.e. $2.9m, are regularly recurring subscription fees, and the business will be immediately earnings accretive. The acquired business should therefore be in a position to completely fund interest payments on the lending and any additional earnout payments will be taken care of by revenue improvements.
In conclusion, not only is it possible to buy a business without predominantly using your own cash, it might be a more sensible approach. There are a vast array of creative financing options available, and you will often be able to work alongside the seller to structure a deal that gets you both what you want. Just remember to prepare well before making the first move and to have the right expertise on board to help you avoid the pitfalls.
Share this article