Coronavirus, Business & M&A
We're going to explore what business sectors are likely to be most impacted by coronavirus and what opportunities might be created, including lower business valuations, asset sales of companies in administration and new market gaps.

We'll also assess what the UK's current state of lockdown will mean in the short term for the business market and what the lasting effects and trends might be in the aftermath of the current state.

Dive, Survive or Thrive?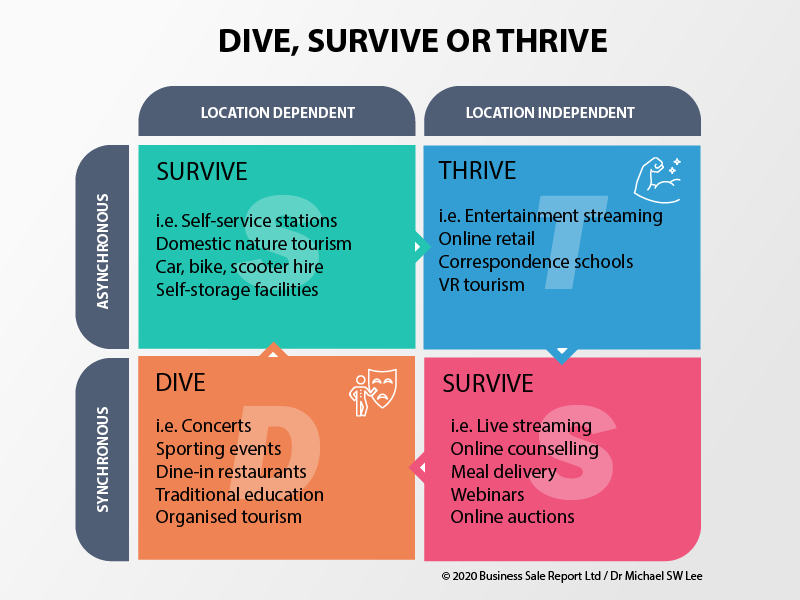 Dr Mike Lee of Auckland University has created a compelling grid indicating which types of businesses are likely to dive, thrive or die in this kind of crisis. They will fall into one of these three outcomes depending on two key factors: (1) Synchronicity and (2) Location dependence.
At the bottom left, we have the businesses that will be hardest hit by COVID-19 (or any other pandemic). Businesses that are location-dependent, and rely on synchronous timing between themselves and their customers. Think restaurants, cruise ships, conferences, concerts and sporting fixtures. Traditional TV used to be here (people needed to be sat at home). These businesses require a lot of scheduling, which is essentially inconvenient, as all stakeholders need to be in the same place at the same time for business to be conducted. The perfect scenario for any virus.
A class of businesses that should be able to survive Covid-19 are those that are location-based, but can operate asynchronously I.E. At almost any time. Think self-service stations, independent domestic nature tourism, vehicle hire, self-storage businesses. The where is important, but the when isn't. Some of these businesses may have to close during a lockdown, however, they should not be impacted following the lifting of restrictions.
Another class of survivor businesses are those that are synchronous and location independent. The when is important, but not the where. So stakeholders can be spread out geographically, as the service is delivered at a particular time. In this group we find restaurants that offer delivery, live streaming of sports events, online sports betting, online auctions, webinars or online counselling.
The most flexible business model, asynchronous location independence, offers the most resilience against pandemics. In fact they are set to actively thrive in these times. They have already given the customer the ability to decide where and when to do business. Notable examples of specific businesses include UberEats, Netflix, Fortnite and Amazon.
What sectors might be most affected?
Travel:
Perhaps one of the most immediate and high-profile effects of coronavirus has been the impact on travel. There is no industry more location-dependent and synchronous travel businesses, I.E. Tour operators, are failing fast. A drop in demand first impacted the bottom lines of many travel companies (see Business Sale Report's article on Thomas Cook), before widespread travel bans and border closures halted some travel altogether.
Regional airline operator Flybe, which had already been struggling, collapsed into administration in March 2020, citing "added pressures on the travel industry" from coronavirus. Along with a sell-off of its £90 million in assets, including its 80 aircraft-strong fleet, Flybe's collapse has also presented opportunities for rivals.
Its long-term competitor, Scottish operator Loganair, for instance, has used the opportunity to expand, taking over 16 of Flybe's former routes and adding staff including additional pilots, cabin crew and engineers. Such small operators are likely to also encounter difficulties during the pandemic, potentially opening up the possibility of cheaper acquisitions and a more open marketplace for those that survive, especially with travel forecast to see a boom once the pandemic dies down.
One possible saving grace for travel companies is the Coronavirus Job Retention Scheme, through which the government will cover up to £2,500 a month of salaries, allowing firms to furlough staff.
From an acquisitive perspective, while this may lead to fewer liquidations and administrations, many businesses in this sector will still be in a far weaker position. This will potentially allow those looking to buy to acquire more companies that are still in operation and have retained their staff.
Cruise lines fall into another sub-sector that has been sucker-punched. With forecasts that the industry may not recover for another ten years, asset-rich companies like Princess Cruises could represent ripe pickings should they go into administration.
Hospitality
Many businesses in this sector, while they may be successful, still rely on constant cash flow in order to stay afloat, with many surviving week-to-week, even if they appear to be profitable. Again, location-dependent, synchronous service is the hallmark of a 'Diving' business in the matrix above.
Restaurants, and many bars, will still be able to generate some income through offering takeout food (moving to the bottom right quadrant). But, having been ordered to close their doors to customers, the bottom lines of many businesses will take a huge hit from the loss of regular footfall.
However, many in hospitality stand to benefit from government incentives such as the aforementioned Job Retention Scheme, as well as the 12-month business rates holiday for the 2020 to 2021 tax year and grants, which will enable businesses in the sector to access cash grants of up to £25,000 per property.
These businesses will also be boosted by the government's announcement that VAT payments will be deferred for three months. However, while the announcement of a freeze on alcohol tax in the most recent budget will have been music to the ears of many in the sector, that was a long time ago, and many in the sector are now threatened by the failure to cancel beer duty altogether during the pandemic.
In spite of government assistance, the elimination of cash flow that the mandated closure will cause could see many established restaurant chains as well as small independents struggle. We will consequently see extensive opportunities arise in the sector in the form of business sales, administrations and asset sell-offs. Early casualties in this pandemic include Carluccio's, and The Restaurant Group's Chiquito's chain plus its Food & Fuel pub chain.
Despite the current state of closure, investing in or acquiring companies in the hospitality industry now could pay dividends later when the crisis is over and consumer confidence returns. A report from the Chinese city of Chongqing, which has exited lockdown after seeing new coronavirus cases consistently fall in recent weeks, cites 8-hour waits at some restaurants, as customers relish a return to normality.
Once the UK emerges from its current state of near paralysis, market conditions could prove extremely favourable for those bars and restaurants that come through the difficult period ahead, as reawakened consumer demand comes to a marketplace in which there is suddenly far less competition.
Meanwhile, accommodation owners are also finding it very tough despite the government assistance with many still paying staff even with hotels and guest houses being mothballed until at least the summer. But as they have proved their resilience and resourcefulness in the past, so they shall again after restrictions end, as tens of thousands rush to escape cabin fever blues.
Retail:
With the UK now self-isolating and quarantining, town centres, high streets and shopping centres have rapidly become nearly deserted, with a huge impact on the financial viability of shops. Laura Ashley has entered administration, BrightHouse is poised to permanently shut 240 stores, Cath Kidston is urgently looking for a white knight, while other leading retailers like Mountain Warehouse have warned of the possibilities of store closures.
Like bars and restaurants, many in retail will be eligible for cash grants and business rate holidays as the government seeks to lessen the impact of coronavirus on UK businesses, and will also benefit from VAT and income tax deferrals. Moreover, many struggling retail giants, some of whom have been hit hardest by the overall decline of the UK high street, will have been glad to hear of the government's COVID-19 Corporate Financing Facility, through which the Bank of England will buy short-term debt from larger companies, supporting those hit by a short-term funding squeeze.
Again, though, in spite of this help, the evaporation of cash flow will hit struggling retailers hard. Many otherwise profitable businesses will suffer a cash flow crisis, as debt obligations, rent payments and other costs mount. This will leave many businesses open to being sold at cheaper than usual prices, while those that can't secure such investments will look to sell off assets as they call in administrators.
Closures, perhaps of prominent chains with strong, UK-wide high street presences, will lead to the widespread availability of prime real estate in the country's towns and cities. For those that take advantage of this, and those that use the favourable buying conditions to acquire or invest in retail businesses that survive the pandemic, the gaps in the market once coronavirus has passed could see them flourish.
What might be the immediate impact?
Following a slow tail end of 2019, Britain's M&A activity has slumped even further in the first quarter of 2020, and this trend is unlikely to change over the next three months.
In the short-term, many companies that rely on a steady cash flow are going to see a huge drop in business and be seriously impacted as a result. Along with closures and liquidations, we can expect to see a huge increase in administrations as companies look to survive by any means.
Assets across many different sectors will be up for sale. From restaurant and high street property, to fleets of vehicles and a massive range of different equipment. Many may also look to make quick, fire-sales of their businesses, should current conditions persist for a serious length of time.
Cashed-up entrepreneurs and acquisitive companies will be pouncing on these opportunities, knowing that ultimately the market will return to something resembling normality.
There will also be a huge impact on the stock market, with the bullishness that has reigned for the best part of a decade now likely to end as stocks continue to plummet. While many will be justifiably spooked by a suddenly-devalued portfolio, there will be opportunities for those looking to buy while valuations are low and wait for confidence to return.
It is no surprise that directors and entrepreneurs of Britain's biggest companies have been buying up shares amid the stock market sell-off in a show of confidence that equities - and their companies - will bounce back from the coronavirus pandemic.
Richard Moulton, partner and co-head of the global corporate and M&A team at Eversheds Sutherland, notes that the virus situation has a direct knock-on consequence for most M&A processes due to increased uncertainty as to the implications for the relevant target business. "However, there are some exceptions where we are seeing deal activity holding up, for example, within clean energy, financial services and Tech. Inevitably, another area that will also increase in activity will be distressed M&A."
What might the aftermath be?
In the long-term, the makeup of the UK's business sector is likely to be very much changed. The impact that, potentially months of, coronavirus lockdown have will leave some sectors virtually unrecognisable. For those businesses that come through, and for those able to take advantage of the climate during the pandemic, the new gaps in the market and an increase in positive consumer sentiment could create extremely advantageous conditions.
Already we are seeing an immediate surge in fortunes for companies providing online learning, video streaming, grocery deliveries and takeout food, while Gyms will lose even more business to online cycling, fitness and yoga classes. Again, look to the location-independent, asynchronous business models that are set to thrive into the medium term.
If the current situation in China, where the worst of the virus seems to have passed (for now), is anything to go by, consumer confidence will return slowly in some areas but significantly in others. Some analysts predict that consumer confidence in China will follow a similar pattern to the aftermath of the 2002-03 SARS epidemic, when sectors such as fashion saw a surge above pre-epidemic levels while spending on food quickly returned to normal.
One forecast, however, that seems particularly relevant to a virus pandemic in modern times, is that the post-coronavirus economy could lead to a permanent change in consumer behaviour, with online retail - or online everything - becoming more widespread than ever, displacing face-to-face contact.
And springing from this unfortunate global crisis will be altered ways of living and working, bringing with it new ideas and businesses.
If there is to be any useful advice for businesses today, we could do worse than pulling up Sequoia Capital's presentation to its portfolio company CEO's back in 2008 following the GFC. Key takeaways:
M&As will decrease
Business prices will decrease
Acquiring entities will favour profitable companies
Cash is King more than ever - spend every pound as if it were your last
Share this article