Business Sale Report Monthly Updates: Viewer Insights for April 2019
The Business Sale Report would be nothing without its loyal subscribers, inspiring us to curate and provide the best possible information regarding businesses to entrepreneurial opportunists like yourselves. From heavily researched industry insights and sector-specific how-tos, to our vast selection of available businesses for sale and distressed companies, what we do behind the scene is entirely a result of your views and business-related interests, not to mention your desire to be exceptional in incredibly competitive and saturated marketplaces.

We started the Monthly Updates insight series last month, to shift the focus to you, our subscribers. Instead of examining general worldwide trends and activities, our Viewer Insights for the last 30 days takes an in-depth look into the activity of your competitors to see: what sectors were viewed the most on the Business Sale Report website, which pages and industries appeared most popular, and the top businesses that piqued interest.

Above all, we will aim to draw comparisons to last month, and explain exactly why.


Winding-Up Petitions
Insolvent businesses that are facing winding-up petitions are being forced into compulsory termination in order to pay off its creditors by liquidating the company's assets.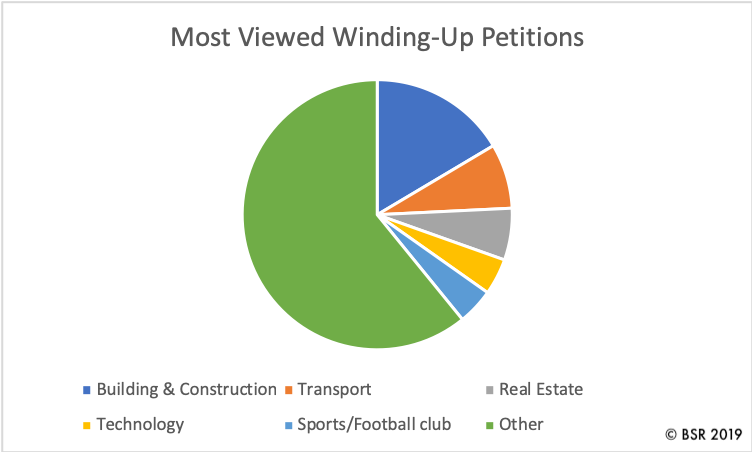 In a similar fashion to last month, the building and construction industry received the most clicks and views (more than double of the next most popular categories) this month in our winding-up petition section of the website. What closely followed was transport and business/facilities services – both piquing interests in equal parts.
However, what was particularly interesting was that the winding-up petition with the most views was a
football club
. It is surprising that this should be the case, seeing as tournaments like the Champions League and Premier League are in full swing; to see a football club face a winding-up order when football season is nearing its peak raises certain questions regarding its longevity as an investment and long-term profitability.
That said, while this particular club is winding-up due to long-term debts, a sporting club may be worth looking to as investment opportunities due to its niche nature, and has the potential to attract bullish investors as such.
Liquidations
When an insolvent business cannot pay off its financial obligations, the company goes into liquidation. Its assets are distributed to interested clients and the creditors are reimbursed, bringing the company to an official end by striking it off the Companies House list.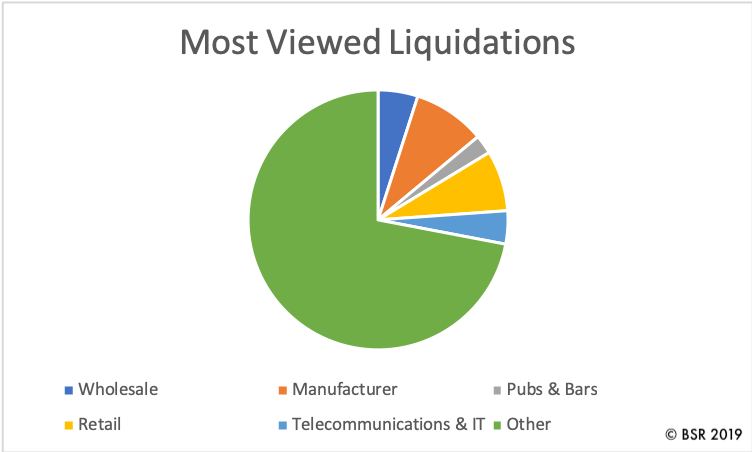 This month was no different to
March 2019
. Yet again, the manufacturing and retail sectors garnered the most views – just take a look at Liam Gallagher's
Pretty Green
men's fashion retailer and
Dudson Limited
ceramics manufacturer recently in the news for going under. In both instances, the companies cited severe cashflow difficulties as the reason for collapse and taking into account all the recent closures on the high street, challenging market conditions are certainly rife.
Due to the striking similarities in the two months, business opportunists ought to be weary with these two sectors – we advise monitoring the market closely for competitors and watching out for avenues of innovation and diversification when assessing liquidations in such industries going forward.
Administrations
A business in administration means that control of the company has been passed on to a licensed insolvency practitioner to leverage assets or restructure the company as necessary in order to repay creditors or ensure profitability in the future.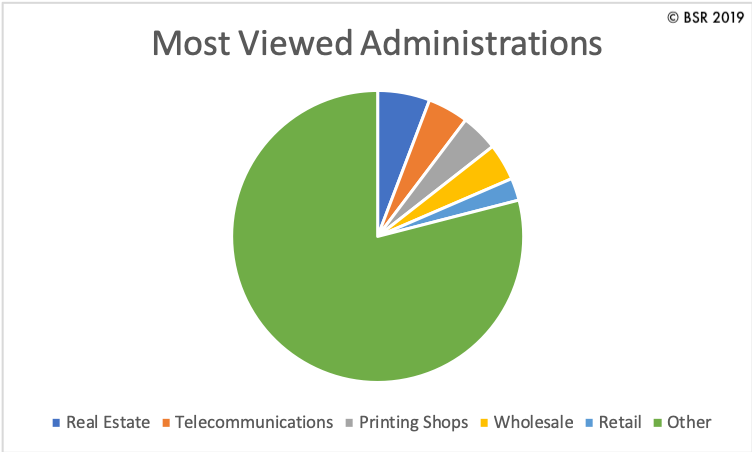 Interestingly this month, real estate and telecommunications reigned in the most views in the administration category of the website. Specifically, this story about a West Yorkshire
property developer
gained a lot of traction, and we can only assume the reason for its popularity was due to the assets available to purchase, their ability to continue trading operations despite being in administration, and their potential for restructuring and investment to grow and remain sustainable going forward.
It is therefore no surprise that this particular
real estate business
in administration received the greatest number of views on our website in April 2019.
Businesses For Sale
For existing businesses to grow their portfolios and take a greater share of the market, acquisitions are the way forward. And because acquisitions are often linked in terms of industries and for businesses to enhance their service offerings, it is unsurprising that views were varied across the board. Over half of all the views (57.22 per cent) were from the 'Other' category!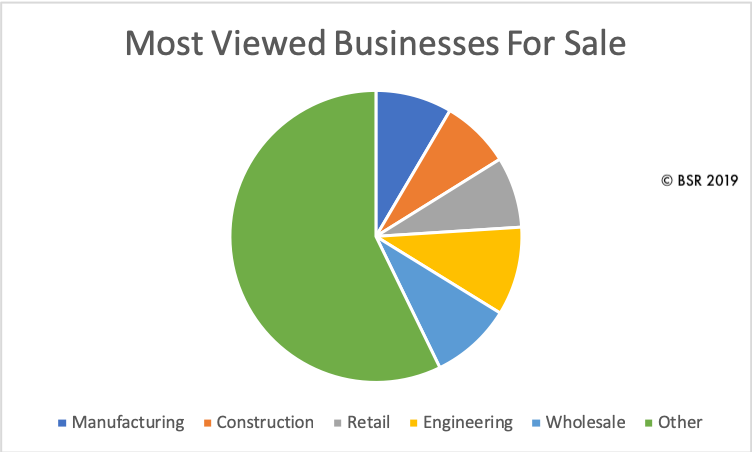 On the Business Sale Report website, there is an incredible range of business categories to allow viewers to look closely at which companies will work to their advantage in terms of interests, needs and strategy. Although engineering, manufacturing and wholesale industries proved the most popular (we suspect, due to the large turnovers expected from these sectors) it is clear that diversity triumphed especially in this section.
This is somewhat surprising. Views for Businesses For Sale were up in the thousands, indicating that despite uncertainties in the UK's present economic climate in the face of European elections and Brexit, business activity is strong and booming – a positive sign for the country and business opportunists looking to venture into the merger and acquisition market.
The team behind the Business Sale Report believe such information should be shared with all its subscribers, to give business opportunists like yourselves the edge over your competitors, and to allow you to look introspectively at your business and your place in the market. As we continue to produce these reports, we will develop a better understanding of buyer activity in the market, which we would be thrilled to share with you on a regular basis. In next month's issue, we are excited to analyse activity over the three-month spring period, and further down the line, a half-yearly review.
View our previous
Monthly Insight
.
For all our business for sale listings, click here.
Share this article